Incoterms, Customs Declarations, Transit Documents; EAD, EX1, TAD, T1. Confused about new rules?
First things first: Incoterms
Importers & Exporters in the UK and EU MUST know the Incoterms for every shipment to be moved.
This is a vital first step for all transactions. Every exporter and importer must be clear about who will complete their customs processes, who decides how the goods will move, who will arrange transit insurance & who is paying freight charges BEFORE any shipment can be moved. These issues are defined by Incoterms.
Are you involved in road transport between EU and the UK only? Read our Simplified IncoTerms guide
You may have already looked into this and be a little overwhelmed by the complexity of the subject, so we have decided to try and make this a little simpler to understand. The original Incoterms have been around for years and have been designed to cover all modes of transport around the whole world.
Those of you who have been trading worldwide will be familiar with Incoterms already and won't need much help or explanation. Customs, Transit Forms such as EX1 or T1 will be familiar to you, however those of you who need to get to know the subject now due to Brexit, will most likely only trade with the EU states and therefore you don't really need to worry about the full Incoterms.
We have taken away the terms you are unlikely to need and only left the ones that may be useful for you for road transport between European Union member states and the UK.
Please see our simplified graph below with the EU – UK road movements applicable terms. These will be applicable to both Exports and Imports.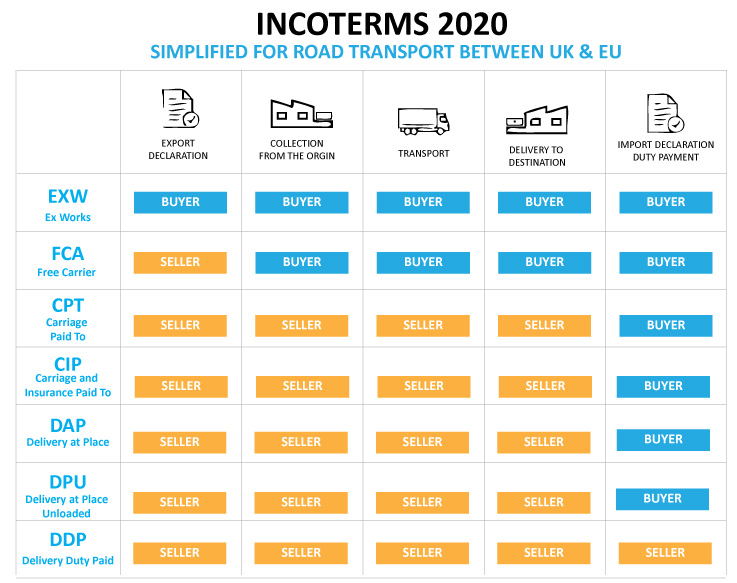 So, what are Incoterms exactly?
As explained above the Incoterms will clarify who will be responsible for any particular element of the process, which will include Export and Import customs declarations submissions, how the goods will move, who will pay for transit insurance and who is paying freight charges. All of these items can be freely split between seller and buyer – and depending on the agreement "who does what" the relevant Incoterms will be chosen.
For the road movements between Europe and the UK, you will not need to know or use all Incoterms so we have decided to explain a bit more on the 7 incoterms shown above, which we feel could be relevant for EU – UK imports and exports via road transport model;
EXW – Ex Works: meaning the buyer is responsible for all items, the seller's responsibility is to merely make the goods available for collection. The buyer needs to arrange haulage, transit insurance as well as both export and import declarations.
FCA – Free Carrier: meaning the seller is now responsible for one item, which is the export declaration. The most common one would be Export Accompanying Document (EAD), for EU movements EX1 form will be the most commonly used. Depending on delivery destination and final clerance arragements Transit Accompanying Document (TAD) such as T1 may also be required. The buyer needs to arrange a haulage, transit insurance and import declaration.
A bit more work for the seller
CPT – Carriage Paid To
CIP – Carriage and Insurance Paid To
DAP – Delivered at Place
DPU – Delivered at Place Unloaded
All the above Incoterms would have quite a similar effect and responsibility allocation in a an EU – UK road transport scenario. All of these Incoterms mean that the seller is responsible to submit the export declaration and arrange haulage to the destination as agreed with the buyer. This means getting Customs Declarations (EAD) and Transit Accompanied Document (TAD). We can help you with these, and raise EX1 and T1 for your shipments. Under CIP seller must also arrange insurance. For the purpose of road transportation between UK and the EU if you are considering one of these terms, DAP or DPU are best to go for.
DDP – Delivered Duty Paid: meaning the seller is responsible for all items (these terms are exact opposite of EXW). Seller must organise everything; Customs, Transit, EX1, T1 the lot. Please note that if you sell under DDP you will need to submit export entry, arrange haulage and insurance but most importantly you must also submit import declaration and pay the customs duties at the destination country.
For those of you who are interested in full terms, please see the graph below. These are full 2020 Incoterms that will take more transport modes into consideration. If you trade worldwide using deep sea freight or air freight you may need more terms to use (depending on your case you may still use the ones we've explained above).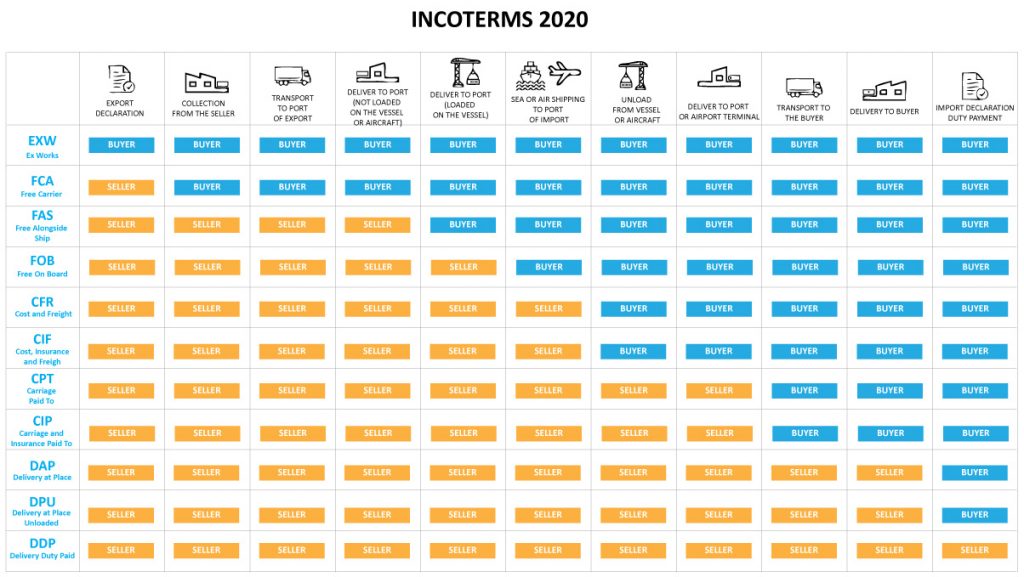 As you can see the journey from origin to destination is broken down into more "steps", and the responsibility between seller and buyer can be therefore split in many different ways.
So, to give you an example, if you buy your goods from China, neither you or the seller has to be responsible for everything from A to Z, you can split this between both of you anyway you want and take over the responsibility and cost at any point of the proccess you choose. You may ask the seller to bring the goods to port of Shenzhen only as you will have your own agent to load the goods on the vessel and arrange the shipment from there (this would mean FAS incoterms to be used), on the other hand you may want the seller to arrange the goods to come to port of Felixstowe in the UK, and you will take over from there (this would be CPT or CIP incoterms depending on if you wanted the insurance to be included or not). So, as you can see Incoterms let you decide exactly at which point you responsibility starts and so you would agree this with your seller BEFORE the transaction as you both feel appropriate for the situation. Of course you can still take all responsibility (EXW) or no responsibility at all (DDP) just as in our simplified examples above.
If you would like to know more, please don't hesitate to contact us at Salvatori. We will be more than happy to help.