£2.5m worth of new vehicles on the road.
Salvatori is constantly investing in its fleet and facilities ensuring we are the market leaders providing our services through moderns and environmentally friendly fleet of vehicles and facilities.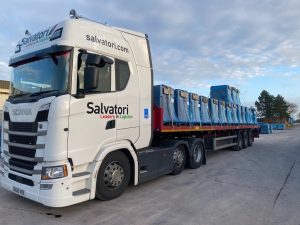 As a part of our continual development and investment program, in the last few months we have put over £2.5 million worth of new vehicles on the road. Joining our UK and European fleet 7 new DAF tractor units, 6 new Scania tractor units as well as 8 new Mercedes tractor units and 1 MAN unit all those followed by 12 new Dennison flatbed trailers, 3 new Allport double deckers, 3 new DAF 18 tonne lorries, 4 new DAF 12 tonne lorries and 4 of 3.5T Renault vans for those very important express deliveries as well as home deliveries to more challenging access destinations.
Our latest investment takes our fleet to the new level and meets FORS Silver and London's DVS standard. This is very important investment which allows us to continue to provide flatbed and cusrtainsided transport and deliveries to most demanding construction sites in London.
All our vehicles have been fitted with tracker systems provided by Big Change Apps, and all-round camera systems provided by Brigade, ensuring both public and driver safety on the road. Our fleet meets very high standards of FORS scheme, and we are now FORS Silver accredited hauler. We are also Direct Vision Standard ready for all London deliveries in 2021.